What do you do with all of that leftover turkey?  I mean, really, who can eat turkey for the next week and a half until its all gone?  Well, here are some fabulous recipes that I found to make that leftover turkey seem brand new to everyone at the table.
photo via
This Leftover Turkey and Swiss Panini from The Pioneer Woman looks amazing.  Made all gooey from the cheese with a hint of sweet from leftover cranberry sauce.  This will definitely be on my leftover menu!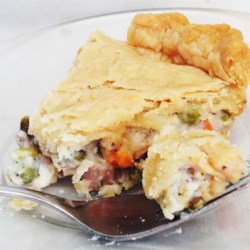 Dad's Leftover Turkey Pot Pie from AllRecipes.com looks like a winner too!  That great golden crust encases leftover turkey and all of the vegetable sides you have in the fridge.  What a fantastic way to use all of your leftovers in one spot!
If you feel the need to be a bit healthy after the Thanksgiving indulgences, Real Simple has a great recipe for Turkey and Blue Cheese Salad.
Taste of Home has a fantastic turkey stock recipe.  Use that picked over turkey carcass to make this.  Then use the stock to make…..
Turkey and Mushroom Risotto from epicurious.com.  Doesn't that look delicious!!
Or make Leftover Turkey Noodle Soup from skinnytaste.com.  This is a great soup to have in warm mugs while you drag out the Christmas decorations!
What do you do with your leftover turkey?
(Visited 37 times, 1 visits today)