I have a confession to make.  Lately, I haven't been inspired.  I mean, jump out of bed, ready to tackle the day, INSPIRED!  It's just not there.
And you know what my first thought was?!
I hope my kids don't notice!!
But they have because all they want to do is play on their iPads.  No coloring or painting.  Creativity has been zapped.  The Rainbow Looms are collecting dust.  We have unfinished projects lying around.  Perhaps it's the cold weather.  Perhaps it is just a creative block.  I don't know, but whatever the reason, it ends today.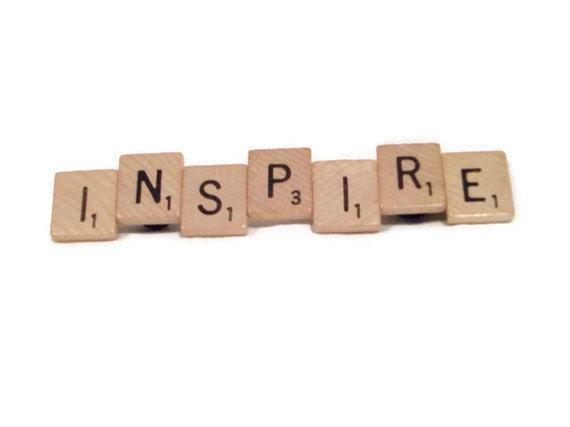 The first way to inspire your kids is to Lead by Example.  Yes, we all make mistakes.  We all hit slumps.  We all get tired.  But it's how you pull yourself together that matters.  And when your kids see you make mistakes, admit those mistakes, find happiness, enjoy your day, etc. they learn.  When you find inspiration in the little things around you or show gratitude at every occasion, your children will pick up on that.  Then, they too, will do the same.  But it has to be genuine.  Kids can smell a phony a mile away. 
Put inspirational quotes in an obvious place.  I learned that they actually pay attention to art just the other day.  We were in the car and my son, out of nowhere, said "Sometimes the heart should do things without the brain's permission.  That's good advice!"  It took me a minute, but then I realized that the piece of art I have hanging in the upstairs hallway says exactly that!  Wow!  I have also been using the chalkboard wall in our mudroom area to add some inspirational quotes.  (I need to improve my chalkboard writing a tad!)  There's also a sign in the playroom.  Seeing as kiddos actually pay attention to this, I plan to add a lot more.
I put love notes in my kids lunch boxes. I want them to know that no matter what, whether they succeed or fail, I'm proud of them and love them.  I think about my own upbringing and realize that whenever my parents have told me that they were proud of me, I have swelled with pride.  I want my children to feel the same way.  It's a self esteem builder.  And it encourages them to continue being true to themselves.  Unconditional love is inspiring!
Another great way to inspire kids is to share stories of kids who did great things.  Sometimes kids can feel small, like they don't count, because they aren't adults.  But when they hear about other kids who do awesome stuff, they get excited and want to try new things.  The Olympics were a great example of how my kids were recently inspired by other kids.  Did you know that Gracie Gold, Olympic figure skater for the US is only 18 or that Arielle Gold, the snowboarder, is only 17?  Or what about the 2 Texas basketball teams that put their rivalry on hold so that a special needs teammate could have his chance to shine?  It's not always about winning and its small gestures that can change someone's life.  That is inspiring!!  My kids were glued to the TV when we saw that one on ESPN.
And, last but not least, share and try new things together.  It goes back to that whole, make mistakes and let your kids see it, thing.  Try new things together.  You may be good at them, you may not.  My son decided to try knitting this winter.  He's great at it, I am terrible.  My daughter took up horseback riding and horses petrify me, but I'm there with her every lesson.  We try new recipes and sometimes they fail and others succeed!  We paint and sculpt and draw.  We play new games and sports.  We win and we lose.  But we try and that is inspiring on its own!
(Visited 75 times, 1 visits today)